Just 6 days after Luis Manuel Loera, 24-year-old, from San Bernardino was arrested after following home a student from Centennial High School "where he offered her money and a trip to Castle Park. Loera offered to give the victim a ride home but when she refused he made contact with her a second time near Citrus Park" according to Corona PD  Press Release which was first reported by the Inland Empire Press (LINK) another report is spreading around on social media by a parent "Lindsay Arricaberri" about another "Child Annoyance" incident At Norco Elementary.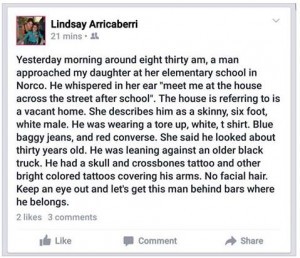 A response from Norco Elementary staff has been sent out to all parents by Dr Brown…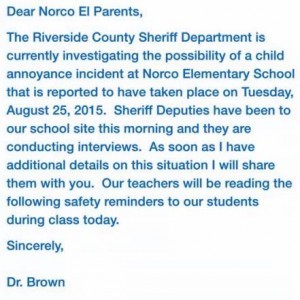 We are awaiting an official press release from Riverside County Sheriffs or another update from Dr Brown and will post it here when its available.  Parents now is a good time to have another talk with your children about strangers.  This is now the second incident in 7 days within close proximity to each other.