"On Thursday, January 21, 2016, the Riverside County Sheriff's Department will implement a team consisting of two sheriff's deputies to address homeless issues within all the communities served by the Department. The Riverside County Sheriff's Department's Homeless Outreach Team will begin its regional operation by helping to coordinate the countywide "Point in Time" count occurring next week. In addition, the Department's Homeless Outreach Team has initiated planning to educate and respond to homeless individuals affected by potential flooding caused by projected El Nino related storms.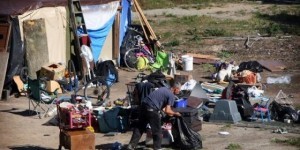 Homelessness exists in virtually every community across the nation including Riverside County. Homeless individuals live in all communities of Riverside County including the communities the Riverside County Sheriff's Department provides law enforcement services to. This includes seventeen of the twenty eight cities within Riverside County as well as all unincorporated communities of the county. According to a recent estimate, there are approximately 1,600 homeless individuals living in Riverside County on any given day.
The Sheriff's Department's Homeless Outreach Team will liaison with other law enforcement agencies of the county as well as the Riverside County Continuum of Care Network. The COC Network consists of private and countywide public sector homeless service providers, designed to promote community-wide planning and the strategic use of resources to address homelessness.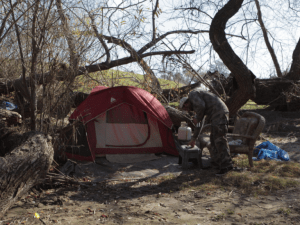 The newly created Homeless Outreach Team will be tasked with not only identifying homeless individuals throughout Riverside County Sheriff's Department operational areas, but to help coordinate the delivery of resources available to homeless individuals throughout the entire county including the homeless veteran population.
The team will work alongside members of Riverside County's Department of Public Social Services (DPSS), to effectively engage homeless individuals coming into contact with law enforcement agencies and the criminal justice system. In addition to identifying those sheltered and unsheltered homeless persons already living within Riverside County, the team will also attempt to identify incarcerated inmates who have a high probability of becoming homeless upon their release to ensure those individuals become less likely to repeat a cycle of crime or violence while being homeless.
In addition, the Sheriff's Department Homeless Outreach Team will perform the following tasks:
Contact all homeless individuals about upcoming Magnet events. Magnet events are designed to maximize the delivery of outreach services to homeless individuals living in encampments at a one day event. Multiple service providers come together to affected areas so that outreach services may be made available to homeless individuals without the need for travel.
Coordinate with non-profit agencies (example: Riverside County Health to Hope Healthy bus).
Coordinate with the Veterans Administration in locating veterans amongst the homeless.
Liaison with the Department's Corrections Division on inmates being released from custody with a potential of being homeless in order to offer re-entry methods preventing homelessness.
Provide training to department personnel in both field and corrections divisions.
Meet with other stations/allied agencies to discuss homeless liaison duties and methods.
Continual follow-up with governmental agencies dealing with homeless individuals' status to find permanent housing as well as individuals who have already been placed.
Preparation/execution of the annual "Point in Time" (PIT) countywide count of homeless event.
Attend countywide homeless related meetings including the COC (Continuum of Care)
Attend homeless related events (example: US VETS led "Stand Down" events).
Give presentations to city groups to help educate the sensitive issues related to homelessness.
Coordinate/execute Magnet events where county and non-profit groups offer services to homeless individuals.
Ensure panhandlers are aware of city and county ordinance violations in all operational areas.
Visit homeless encampments to ensure inhabitants are not violating trespass laws.
Provide escort to groups to encampments in order for outreach services to be offered.
Monitor areas that have been cleared of homeless encampments."