On Tuesday, August 25, about 4:40 p.m., deputies assigned to the Norco Sheriff's Office responded to the 1600 block of Temescal Avenue, in the city of Norco. This was in reference to a reported child annoyance call. Deputies contacted the juvenile victim and learned that at 8:30 a.m. that morning, the victim had been walking to Norco Elementary School on Temescal Avenue, when a male suspect approached the victim and attempted to lure the victim to a nearby location. The victim refused the suspect's advances and walked away. The victim was not injured during the incident. The victim notified their parent of the incident after school had concluded and the parent reported the incident to the Riverside County Sheriff's Department at 4:24 p.m.
The suspect was described as a white male adult, approximately 30 years old, 6′ in height, and weighing approximately 155 pounds. The suspect had black "spikey" hair, with numerous tattoos on his arms. The suspect was last seen wearing a white t-shirt, baggy blue jeans, and red colored tennis shoes, similar to the Converse brand.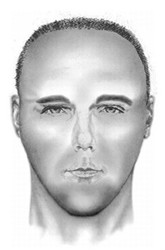 The Riverside County Sheriff's Department is working closely with the Corona Norco Unified School District (CNUSD) pertaining to this on-going investigation. Parents are urged to be vigilant and report any suspicious activity or persons to the school and the Riverside County Sheriff's Department.
Anyone with any information related to this incident is encouraged to call Investigator Contreras at (951) 955-2600.
Citizens may also submit a tip using the Sheriff's CrimeTips online form.
RSO Press Release: http://www.riversidesheriff.org/press/jvs15-0825.asp