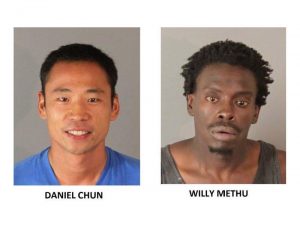 Early this morning on Friday, July 8, 2016, at about 1:45 a.m., officers responded to the St. Andrew's Orthodox Church, in the 4700 block of Canyon Crest Drive, regarding an audible alarm activation. Upon arrival, the reporting party informed the officers he thought somebody was still inside. The building was contained and a K-9 officer and partner, "Rocco" arrived to assist. Several canine announcements were made and two subjects from inside came out and surrendered.
The investigation determined these two subjects broke into the church with the intent to steal items.
Daniel Chun, 29-year-old male, and Willy Methu, 30-year-old male, both of Riverside, were arrested and later booked into jail for burglary.